Today I would like to share how to change the primary and secondary DNS address in the UniFi D-Link DIR-615 wireless router (aka residential gateway) provided by TM. The steps is pretty simple and straight forward. All you need to do is login to the wireless router using the administrator login below: –
Username: operator
Password: h566UniFi
Once you logged in, you will see the Internet Setup in the SETUP menu page as below. Next, click on the Manual Internet Connection Setup button to go to the PPPoE setting page.
Once you are in the PPPoE setting page as below, you can now starting to change the primary and secondary DNS address to your preferred address provided either by Google Public DNS or OpenDNS.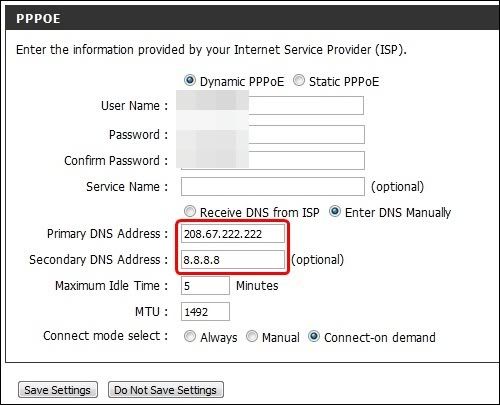 You can select to use either Google DNS or OpenDNS. However, I am using one address from both provider as you can see the screen shot above.
Google Public DNS
8.8.8.8
8.8.4.4
OpenDNS
208.67.222.222
208.67.220.220
After changing the primary and secondary DNS address, please click Save Settings button to have the wireless router acknowledge the changes. Perhaps, if you know other good DNS addresses, I would like to hear from your suggestions and comments. Thank you.