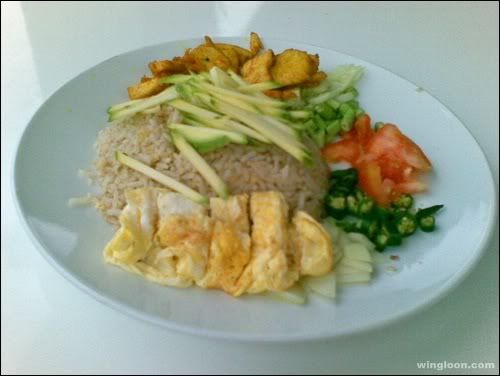 Its been a long time I haven't blog about food in my blog here after the my last food blog post on June 2, 2008. Let me share with you my favorite order everytime I stopped by Kassa Corner in Putra Heights. I will definitely order one Nasi Goreng Belancan Thai and one cup of Sirap Ais.
I love the taste of how the the "nasi goreng" is cooked with "belacan" plus all the small little things wrap around the "nasi goreng" with sliced chicken meat, cut tomatoes, cut "cili padi", cut onions, cut cucumber, cut mango and cut long bean.
So, to any lovers of "nasi goreng", you should try this Nasi Goreng Belacan Thai at Kassa Corner located at Jalan Putra Permai 10/1N, Putra Heights, Subang Jaya. Hehehe…a little free promo fro me.