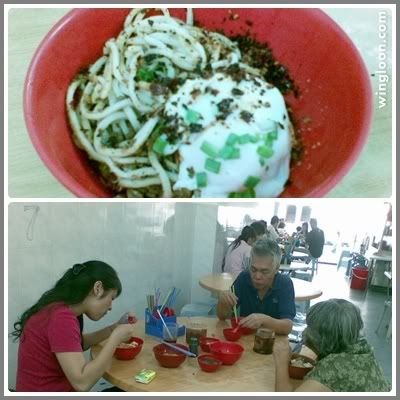 I have been talking to my wife regarding returning to eat Kin Kin Chilli Pan Mee for quite some time. At last we went there yesterday morning with my parents and my daughter too. We reached Kin Kin at 8:30am. The tables in Kin Kin was not fully occupied. We easily grabbed a table which is under the ceiling fan. Sitting under the ceiling fan for this famous spicy stuff. Hehehe…don't you think we are well prepared.
Perhaps, this is my second visit to Kin Kin and the last visit was in year 2004. Without any delay, I ordered three dry pan mee and two soup pan mee. Kin Kin Chilli Pan Mee comes with poached egg, fried anchovies, spring onions and minced pork. After waited for 10 minutes, the dry chilli pan mee and soup pan mee is served to us. I was surprised to see the serving portion of a bowl is not small as per my last visit 4 years ago. A bowl is not enough for me 4 years ago but now is enough.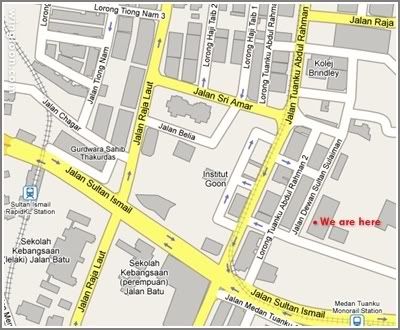 However, I would like to warn that the chilli flakes is extremely spicy. If you are a first timer, do not put a big chunk into the pan mee because it will burn your mouth and your tummy. One bowl costs RM 5.00 each (only one type of serving no matter big or small). I can't remember what is the price 4 years ago but definitely the price has gone up. It is consider expensive but it is worth to try it. I included a location map to Restoran Kin Kin (a must try chilli pan mee for everyone) as above. Be sure to testify it yourself.
Restoran Kin Kin
40, Jalan Dewan Sultan Sulaiman 1,
Off Jalan Tunku Abdul Rahman,
Kuala Lumpur, MALAYSIA.